Sometimes you need to take the leap of faith. In 2010, it was my very first time in Leh. I simply had a calling. La Ultra - The High needed to be done. I had spent over a decade of my life in the mountains, 4 years in Mussoorie in a boarding school called Wynberg-Allen and then in Pokhara, Nepal, while studying medicine at Manipal College of Medical Sciences.
Below is a slideshow showing our journey from first time in Leh to getting to start line of La Ultra - The High. Pics courtesy Akhil or me :) Please click for next picture.
The original altitude map
The original map and logo was done by a designer adventure loving friend Sonali. A beautiful and nice. And then I happened. :)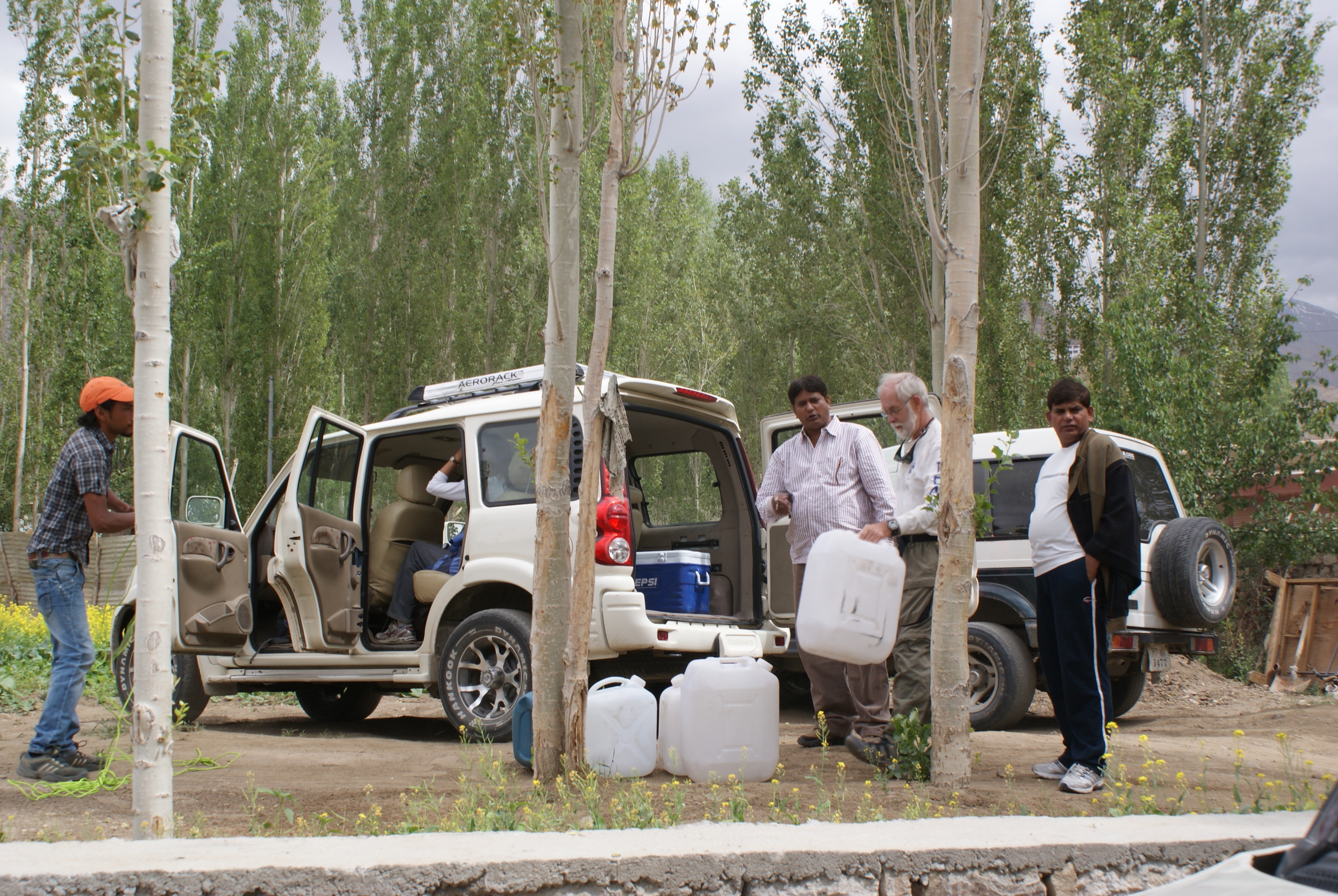 Project road travel
Road travel from Delhi to Leh is beautiful, no matter which way you do it, but it is a project in itself. It's even more interesting to travel with people from vastly different cultures, which is the case in La Ultra - The High.
View from the guest-house
This was the view from the guest-house. Trees in front of barren dry mountains. Unreal!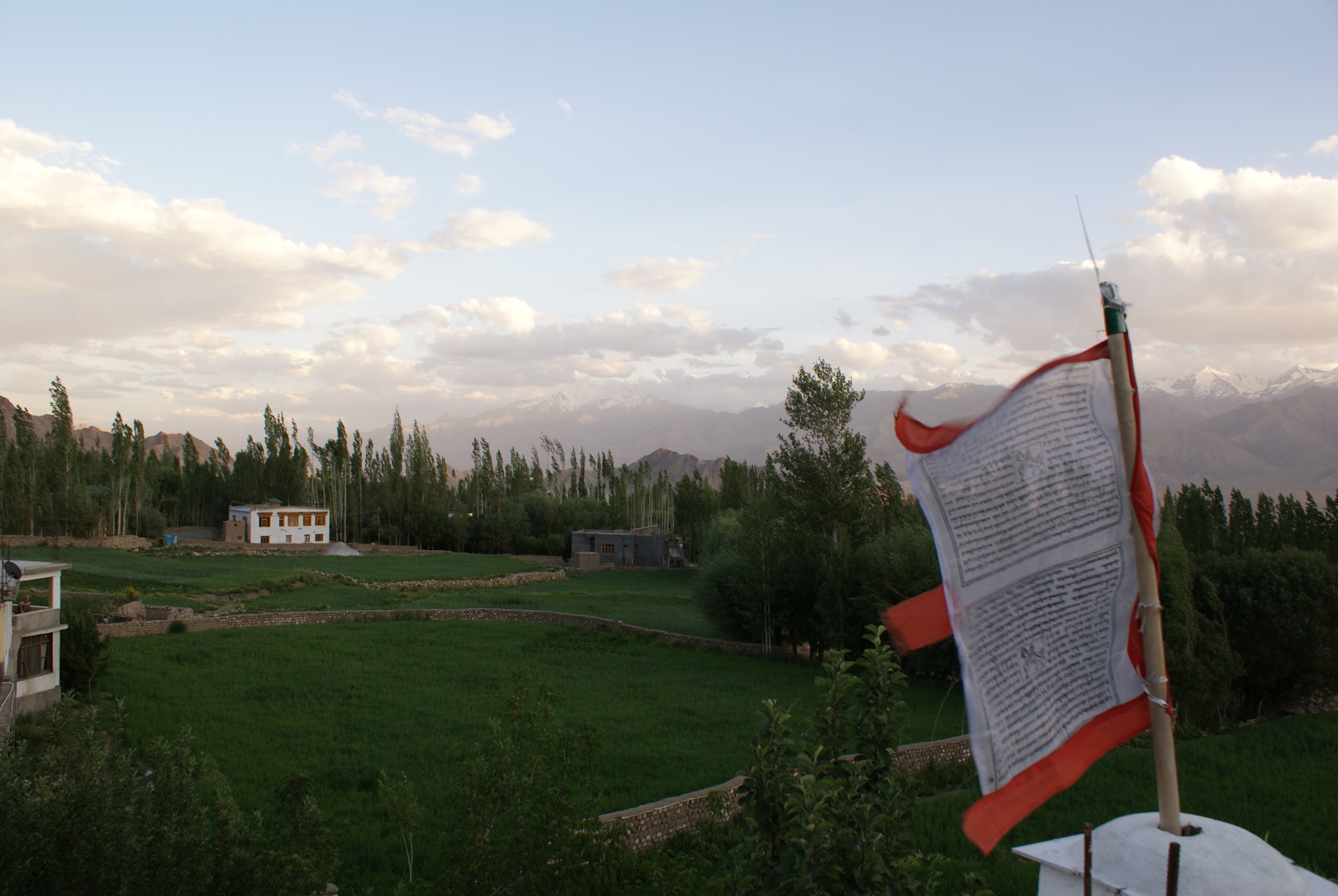 Greener view from the guest-house
View from the guest-house with more greenery. Leh-Ladakh is not supposed to be green. It's man-made to make the conditions more hospitable to survive there. In bigger scheme of things, it's debatable if it's a good thing or not. There is a school of thought that this could have contributed to climate changes locally.
Shanti Stupa
There is something phenomenally calm about it. Goba guest-house, which we have been using for last 3 years, is 2 minutes from steps leading to Shanti Stupa.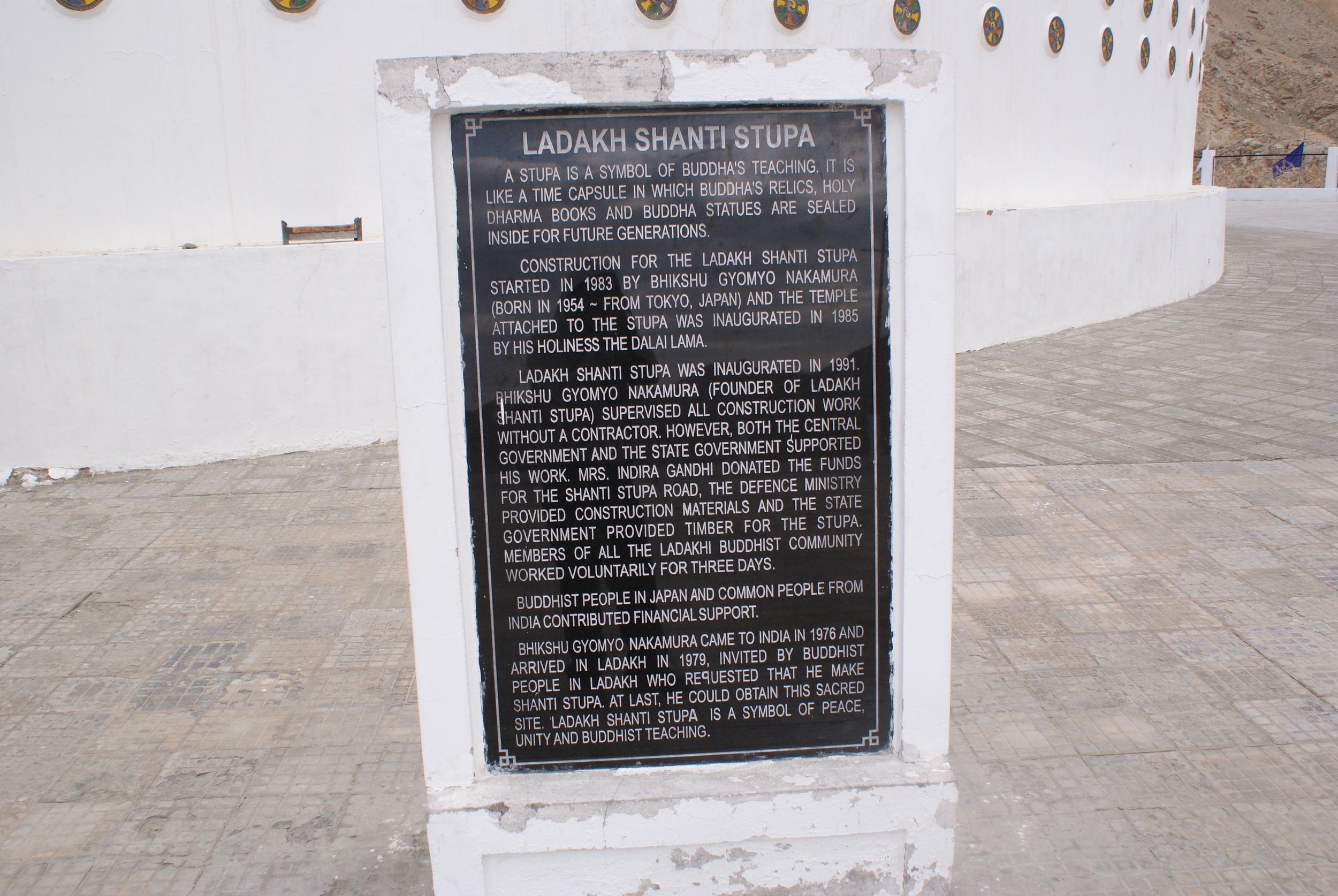 The High gang
The 'high' gang hanging out with Molly.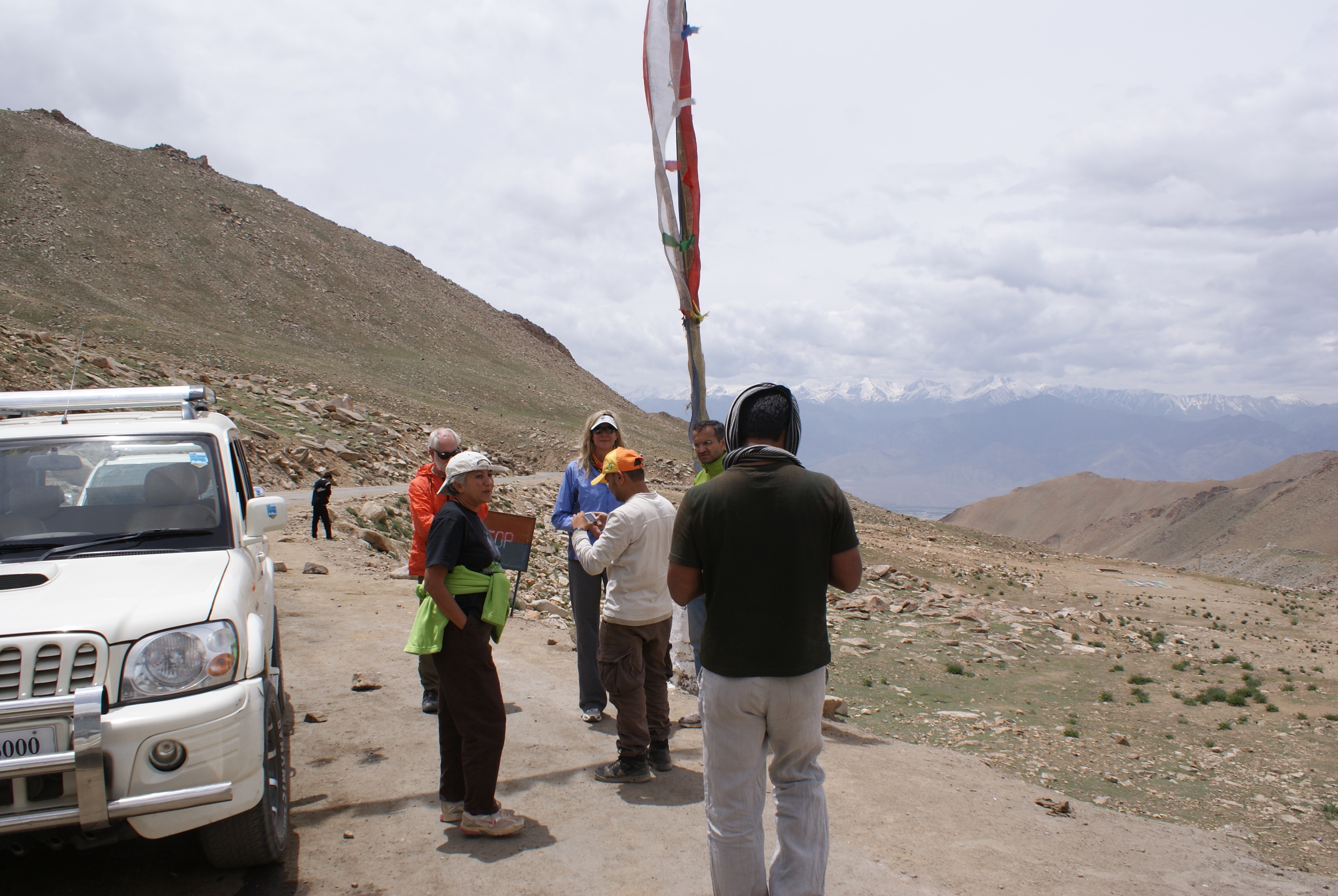 South Pullu
This is an important point in the race as we have a cut-off here.
Sushil and Hitender, two of my three cousins, who made this event possible in the first place. As soon as I knew I was putting this together, I sat them down and told them that I need their help. They didn't hesitate one bit, even though you can see how fit they are. They were actually very fit in their hey days.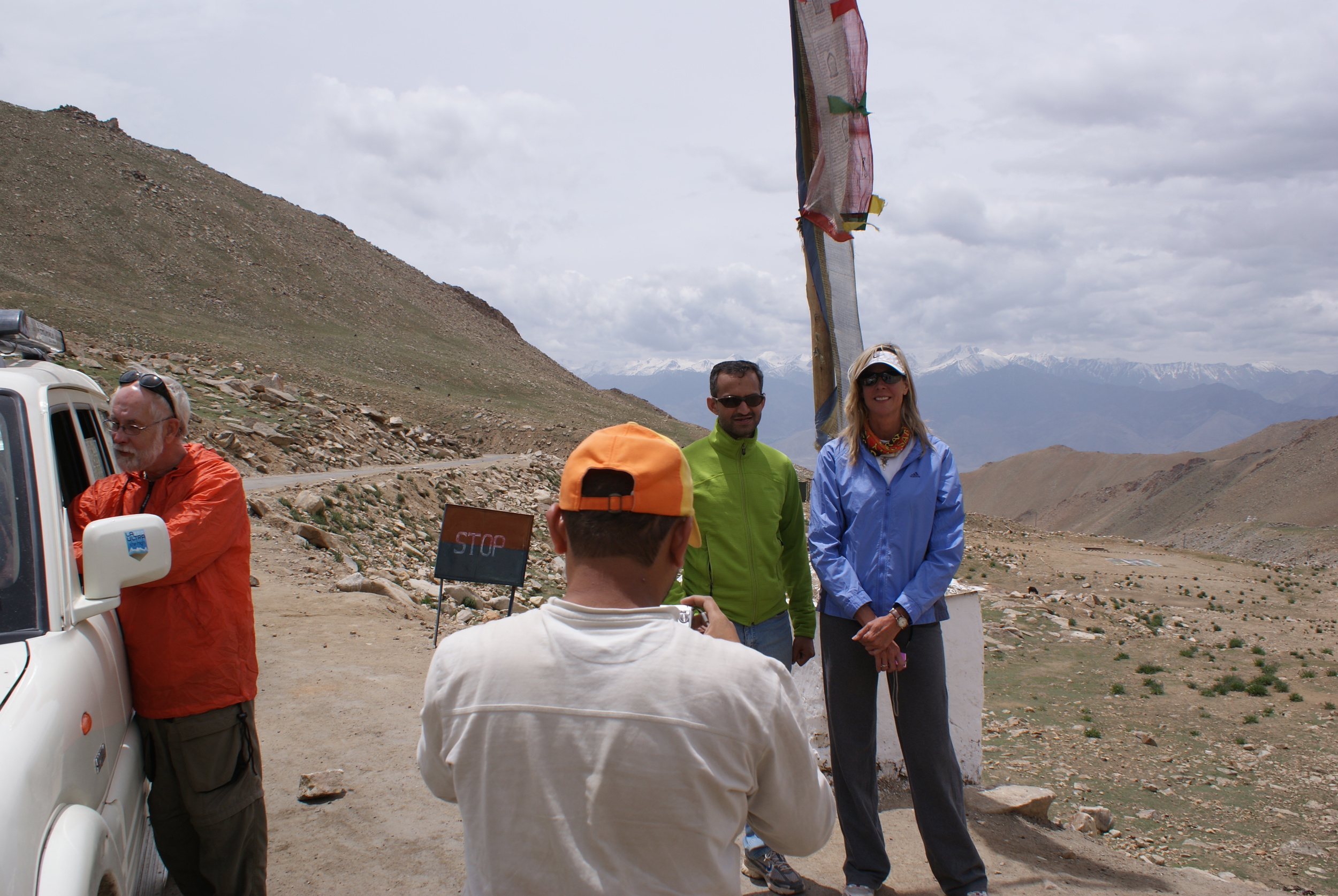 Click click
Me posing with Molly, while Abhijeet tries to figure his camera and Robert Weir is checking if the car will last these treacherous roads. Robert came all the way from US to crew for the race, taking ships etc since he couldn't afford the flight. Abhijeet came from Pune to crew and was involved over next 3 years as core-crew for the event.
Khardung the dude La
Akhil Rana, a crew member who joined us from Delhi, along with Mark Hines, a participant from UK, at Khardung La. This pass has a spirit for sure. More about that later.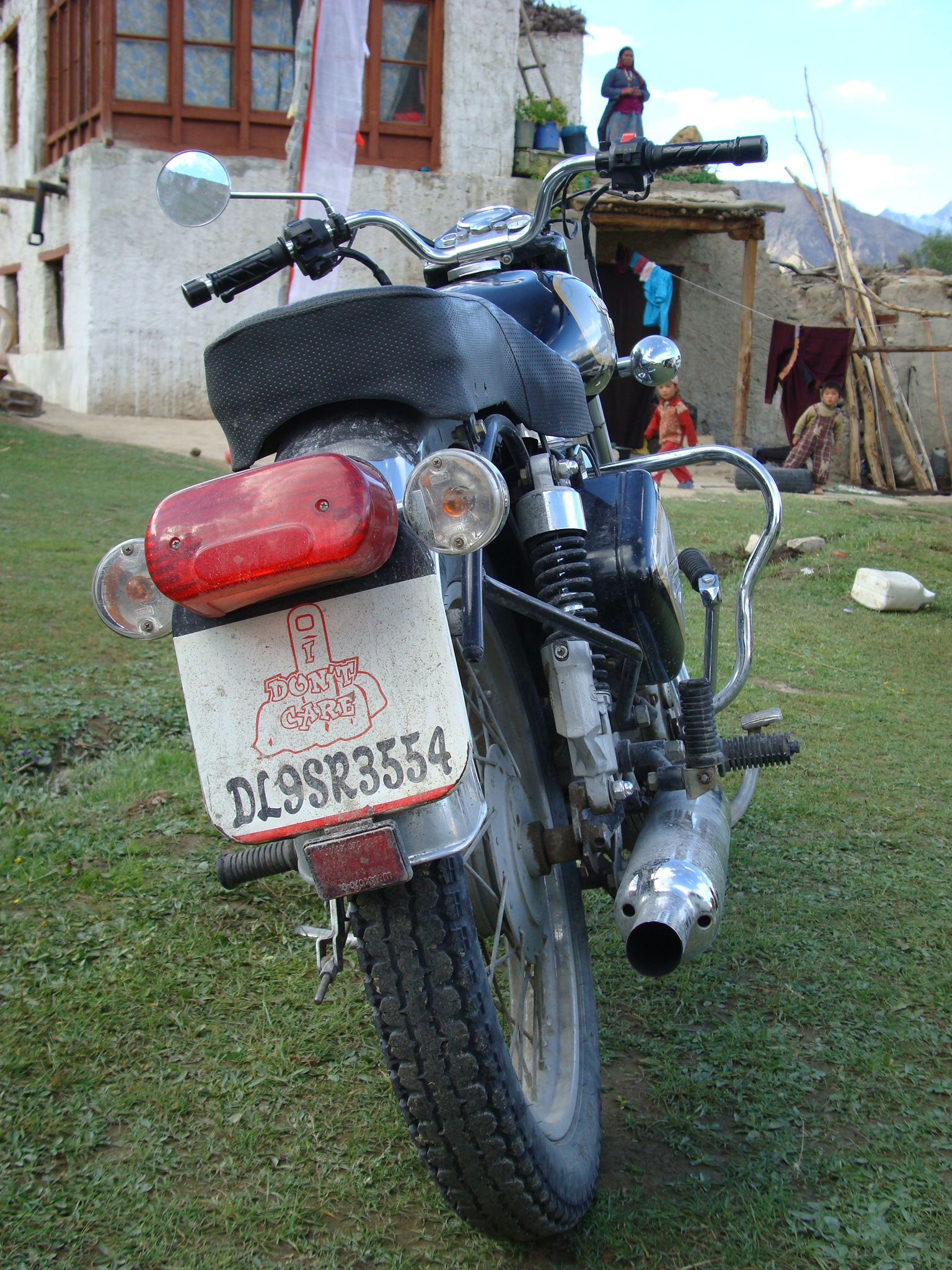 Don't be a Gama, in the land of Lama
That's a popular saying in Leh-Ladakh. Gama was wrestler. As much as we try to weed-off the studs, some end beating the system and into the La Ultra. These studs very often become dhudds. Its highly recommended Gamas avoid this race. People hate me for this, but I say it anyways. I don't take body bags to my event because I don't want to use them. Everyone at my event is my responsibility, so I try to avoid taking those who simply don't respect nature and fellow beings.
You should care
Pramod, the third cousin of mine who was part of the nucleus of this run, hospitalised because of High Altitude Sickness, just a few days before we were to leave for the starting camp. He went by the book and still fell sick. Please take care in Leh or you'll be taken care of.
Casualty
As responsible as my cousin Pramod felt for me, his younger brother, there was no way I was going to let him stay in Leh. As soon as he sat in the flight, he felt great. That's because planes are pressurised. His symptoms completely disappeared. He wanted to get out of the flight and help me what we had started together. That simply wasn't an option.
Ass'ed
This very first exposure to High Altitude Sickness made me feel if I had got folks into serious trouble. I knew I was pushing the limits, but I had been very cautious throughout. I would never risk anyone else's life, ever. To me safety comes first. I hate it when people say 'Death before DNF (Did not Finish)'. I want all my runners and crew coming home safely. There is more to life than finishing the race.
Bill has chest pain
Dr William Andrews developed a cold and had to be taken to the hospital just before we were to leave for the camp at the start. It is very important to note that High Altitude Sickness doesn't care if you are fit or not. It can hit anyone. Please be careful.
Medical facilities at Leh
Medical facilities might not be amazing but doctors there are very good at catering to high altitude sickness as they see a lot of it.
Bill's x-ray
Bill had been having pain in the chest and cough, which was ruled out by the doctors to be much.
Bags are packed, ready to go
We got our bags ready, packed them on our cars, ready to take on rain gods.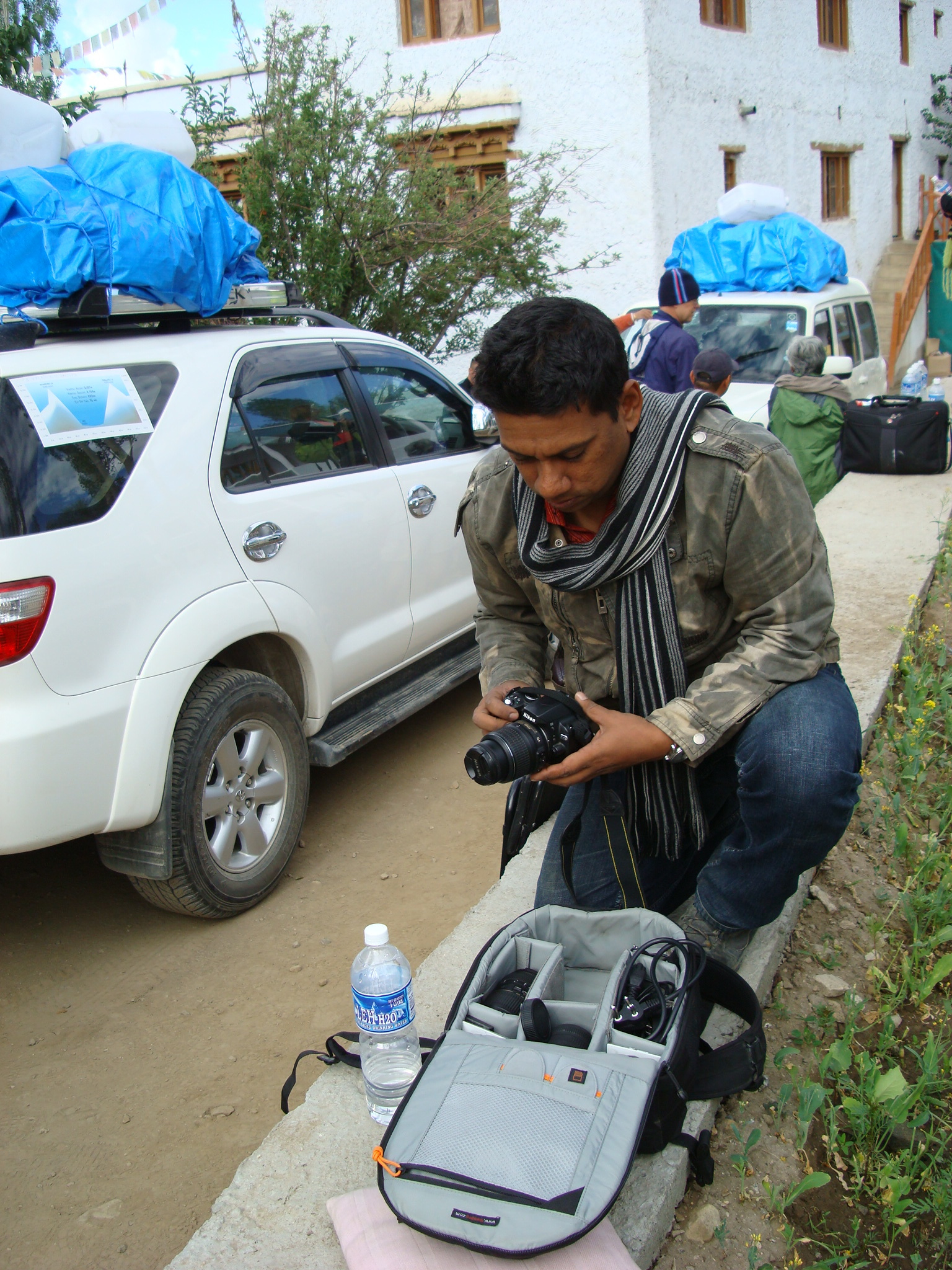 Doubling up
It's not often that three runners would have so many crew members. Our very limited budget forced us not to have any official photographers. We all doubled up as photographers and everything else. Here is Rajesh in action.
And we head off
Now we head off for the start point. We would sleep the night at Khardung Village and then get to the start line in the morning.
We are learning every day
No amounts of books can teach you what life teaches you. Guess why is snow there only on one side of the mountain? I'll answer in the next photograph.
Stream
The sun facing side of the mountain makes the snow to melt sooner whereas the one on the other side, has snow.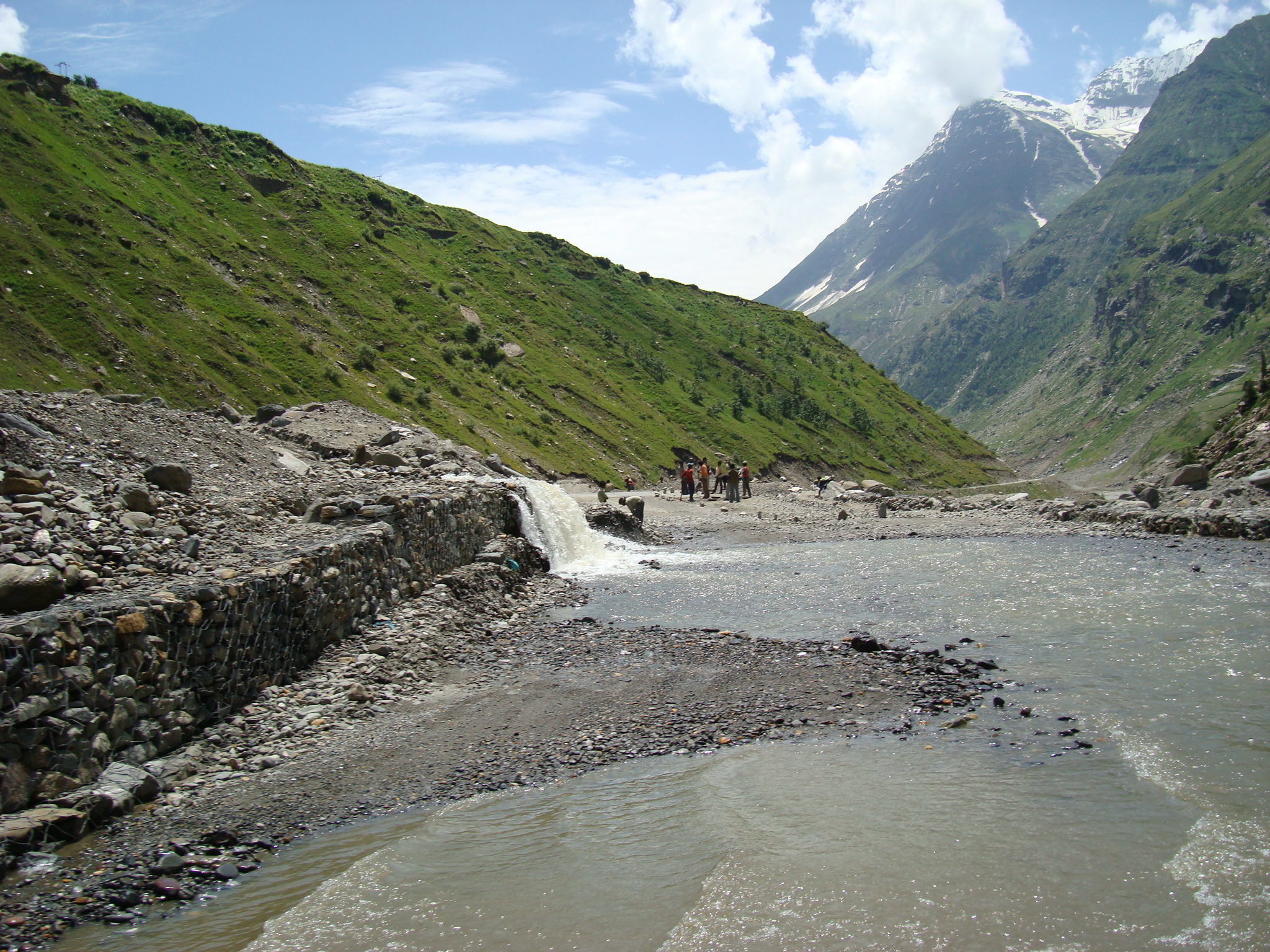 River on the road
Like boys to men, later in the afternoon, that small stream swells up to become a river on the road, courtesy more melting of snow on the top. Now that's tricky as a runner, once you've got your shoes wet, you'll easily get blisters, not good when you've still got 180+ kms to go.
Col Chewang Rinchen
I am not a believer in war and country borders, but it's just amazing to know that some are just born soldiers and it's not often that you hear of anyone more deserving than Col Chewang Rinchen.
Kite flyer
Robert Weir had got a kite from US specially to fly it at the highest motor-able mountain, Khardung La.
Views from Khardung La
Mark Cockbain and Sindhu enjoying the different views from atop Khardung La.
Temples on top
Hitender, Manisha and Jitin pose for the camera. I am no believer but its soothing to see a temple at the very top. Guess Pandavas possibly took this route for their final journey.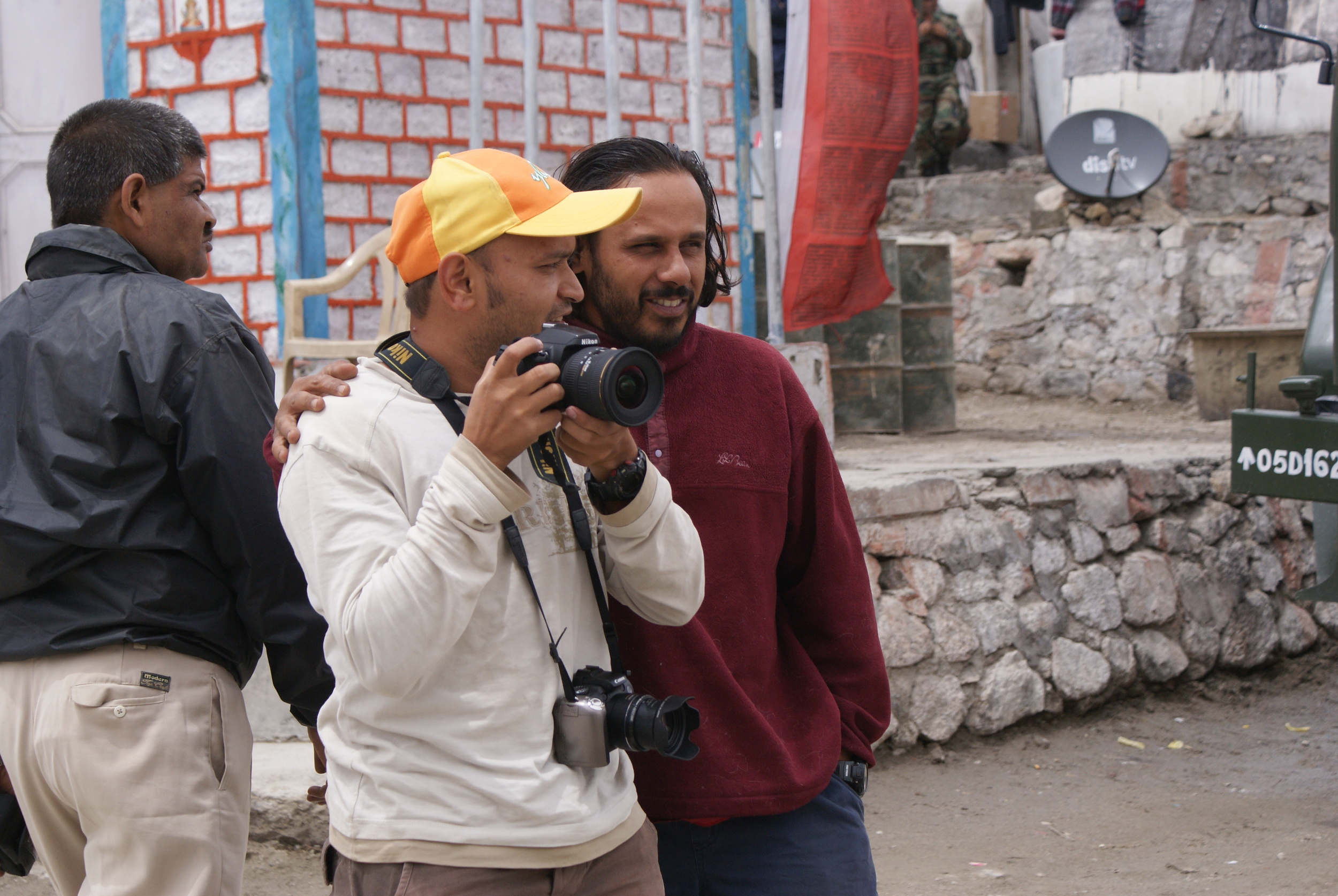 Cameras are out
Abhijeet Yeole is ready to shoot. Khaushal looks on.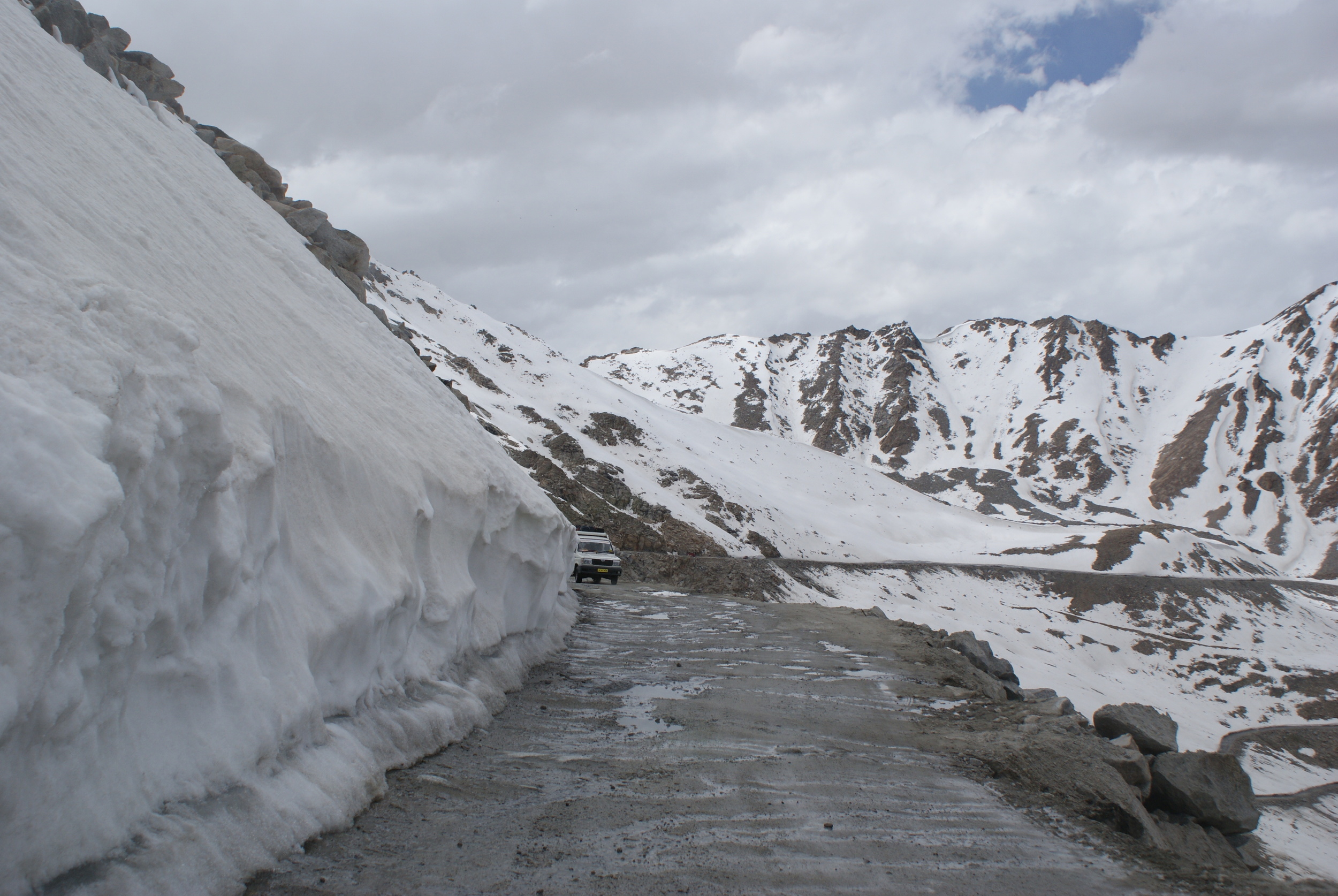 Beyond K top
Beyond Khardung La lies a different world, which has to be seen to be believed.
Chetak on K top
Amazing to see a couple of locals trodding along on their Chetak scooter on top of Khardung La where our SUVs were struggling.
A temple tucked away on top
When there are not many people around, folks remember the Gods for their protection. Whether you believe in god or not, these mountains definitely have a soul. You have to pretty much take their permission to let you pass.
Northu Pullu marker
This is a 7-8 foot pole which is hidden away in the snow.
Dangerous roads
Not to scare you, but it dangerous on these roads. It can't be emphasised enough that never let your guard down up there. Drive safe.
K2 & Korakoram
Somewhere there is K2, a notorious peak which now lies in a new country carved out of India called Pakistan. Why have borders in the first place? Aren't we all same?
Turtled truck
There is no race up there, whether it be while driving or La Ultra - The High. It's about survival. Stay safe, super safe.
Truck
This is how the truck would have looked before it decided to take the leap of stud.
Selfie
Akhil is nominated as the original selfie-r! This is 2010.
Khardung Village
We were to camp the night at Khardung Village, from which Khardung La gets it's name. It was a relief to finally get here.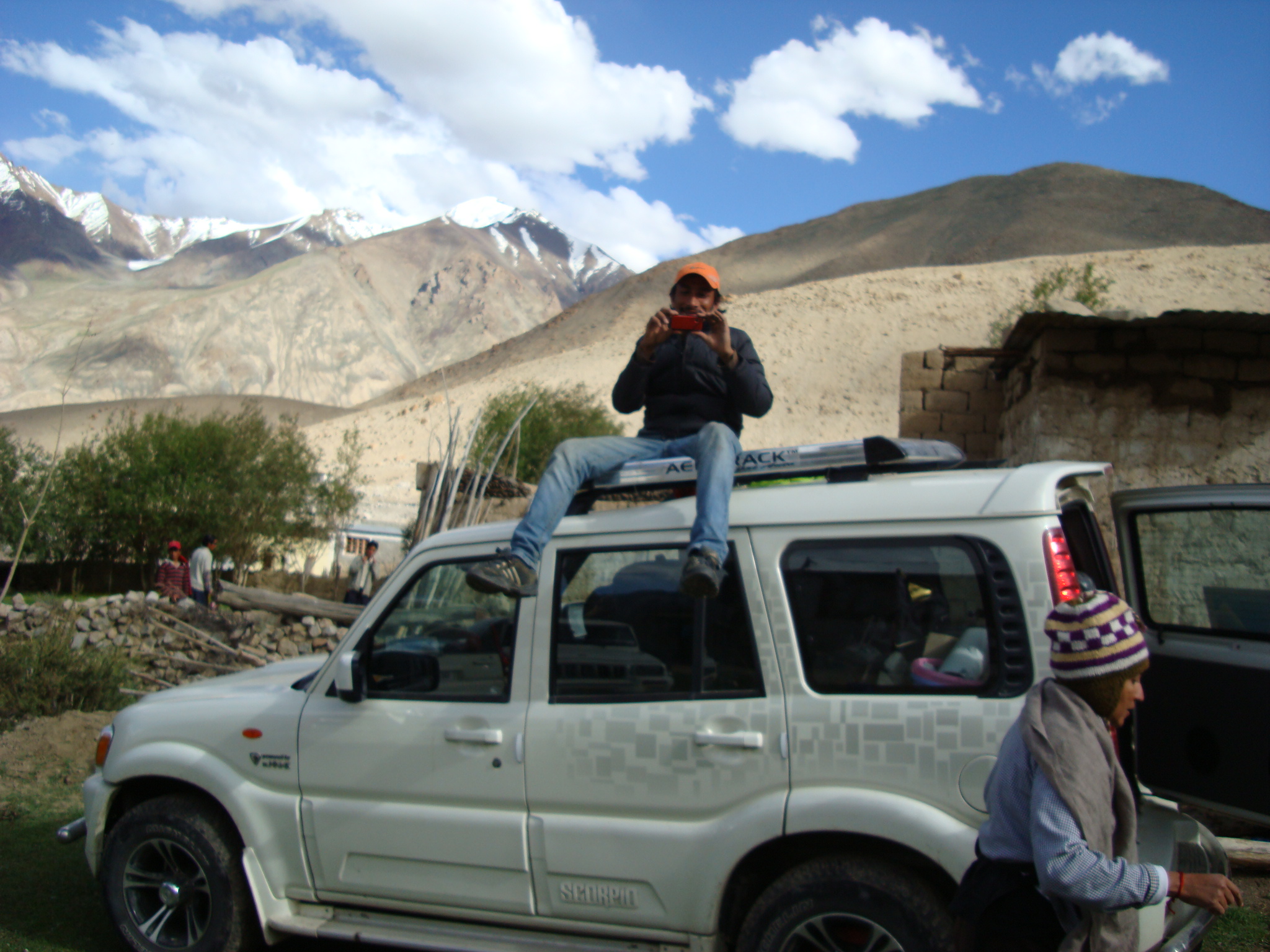 Good shot
A support team member gets an amazing view from top of the car.
The pose
Jitin, Sushil and Hitender posing.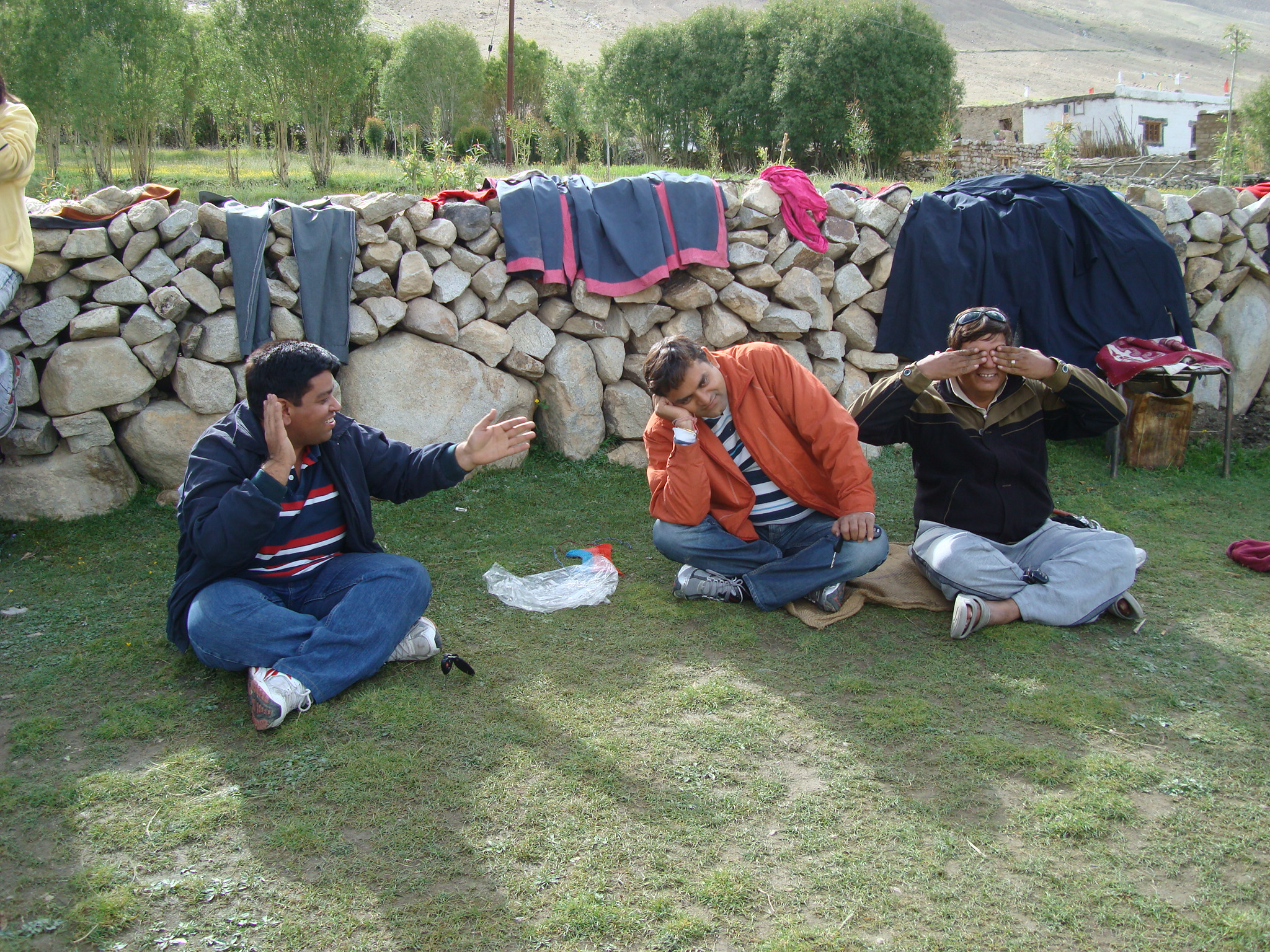 Gandhi's three
Their own version of Gandhi's three.
Ice-Breaker
Mark Cockbain was the last one to land up in Leh. Crew members interviewing and getting to know him better.
Relief
Molly is just relieved to Bill as had to rush to the hospital. He was told by the doctor at the hospital in Leh that his lungs were all clear and was good to run.
Packing yet again
We all started to pack our cars according to the runner assigned. Here Robert personally makes sure everything is in order.
Mark poses
Mark poses with an amazing scenary at the back.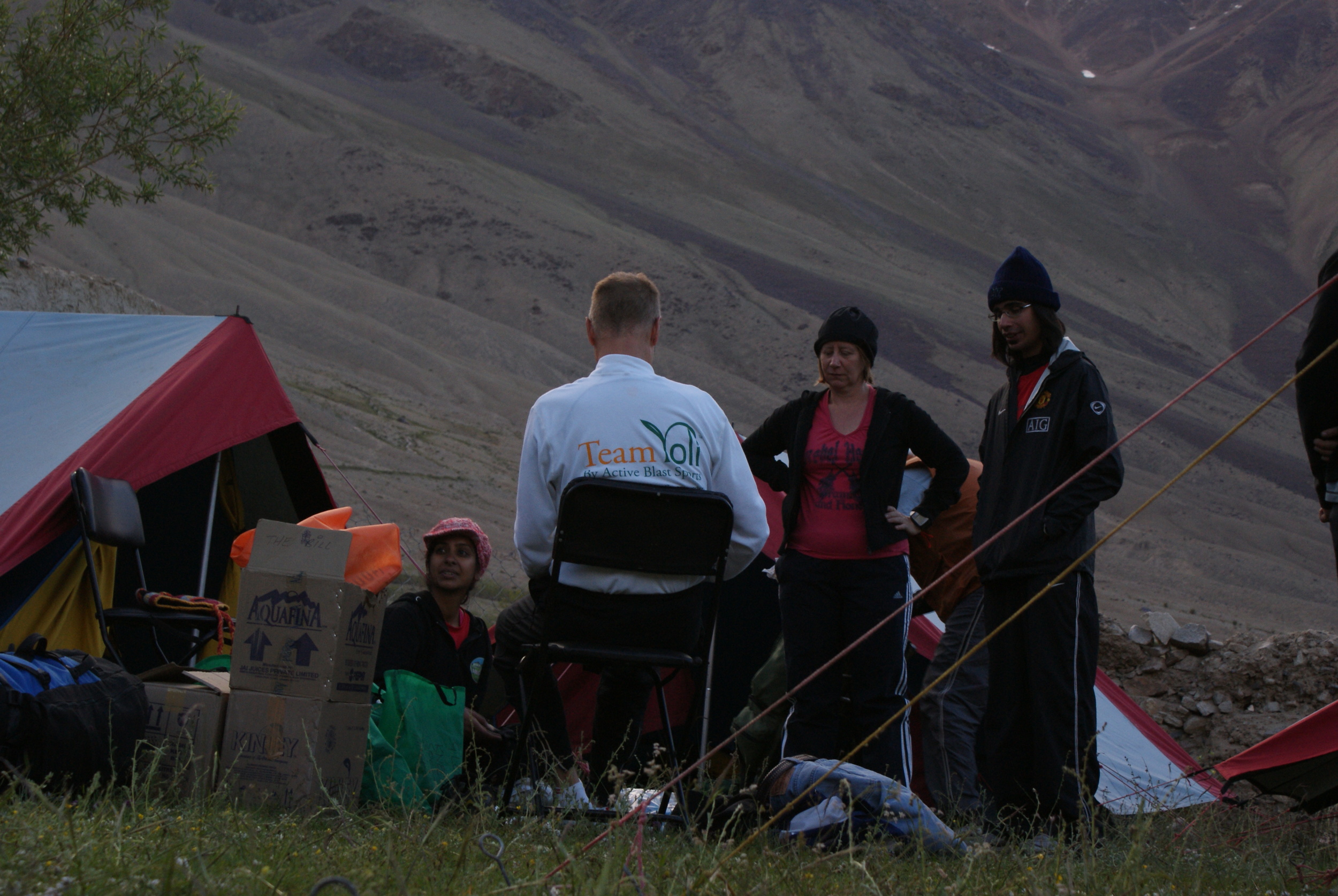 Catching up
Bill shares his story with his team and other crew members.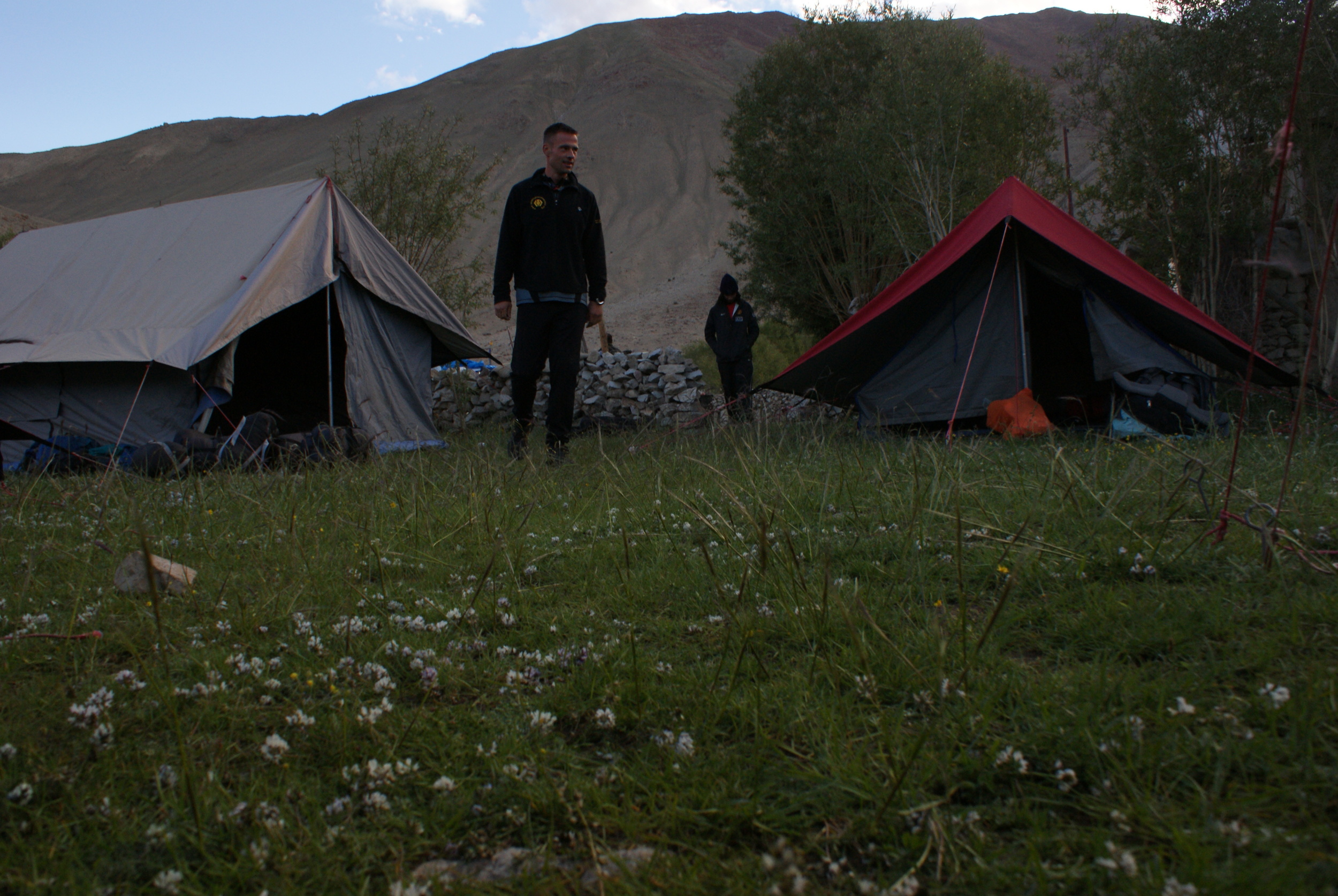 Checking the camp site
Mark checks the campsite.
Sign board at Khardung village
"The Earth provides enough to satisfy every man's need, but not for anybody's greed." Man simply can't get this.